Although they can help keep the cold at bay, it is important to properly use these heaters to avoid potential fire and carbon monoxide (CO) hazards. One of the many safe ways to fuel patio heaters is by propane. It is important to remember that propane requires air to burn efficiently, otherwise incomplete combustion may occur. CO is produced when there is insufficient air for propane combustion.
So before you make plans to stay warm outside this winter, make sure you've got the knowledge you need to stay safe. With the help of the Canadian Propane Association, Technical Safety BC has compiled some important patio heater safety tips for British Columbians:
1. Only operate patio heaters outdoors
Patio heaters are intended for outdoor use only. Never use a patio heater inside your home — including the garage — to avoid any safety risks, like fire and rapid-onset CO exposure.
2. Never use patio heaters in an enclosed space
Enclosed spaces include a four-wall tent. In order to use patio heaters safely, there must be adequate ventilation and spacing around the heater.
To avoid potential risks, consider the following: if you're placing your heater under an open tent, is it too close to the tent ceiling? Is the heater too close to something combustible, like an umbrella or tablecloth? Your heater's manual will tell you what's best practice for staying safe.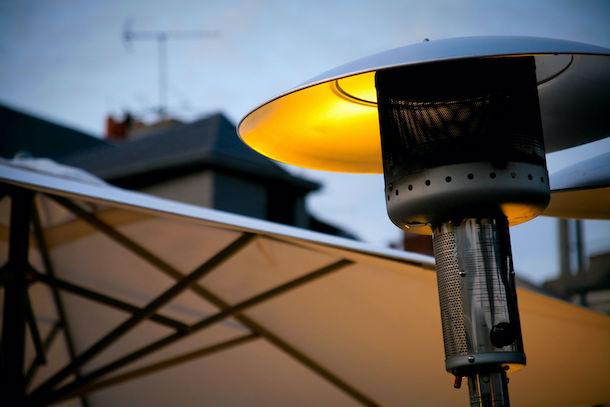 3. Do not store propane cylinders indoors
Propane cylinders must be stored upright and safeguarded with protection that is tamper-proof and can withstand vehicle impact, such as a locked cage or secured fenced-in area such as a backyard. A cylinder is considered to be in storage when not connected to an appliance.
4. Follow the safety instructions in your device's manual
The manufacturer's instructions provided with your patio heater will tell you everything you need to know about your specific model.
5. Never place a patio heater where it blocks an exit
Keep your heater out of the way. Be mindful not to place it where it will block firefighting equipment like fire hydrants, extinguishers, or safety exits.
6. Get your propane cylinders inspected and requalified every ten years
Propane cylinders must be inspected and requalified every ten years. In Canada, it's against the law to fill an expired or damaged cylinder. To find a registered cylinder requalifier in your area, check out Transport Canada's list of authorized recertification facilities.
7. Ensure your heater is placed on an even solid surface
Your heater should be placed on a stable, level, and solid surface. This way, your heater will not accidentally tip over and cause damage or create safety hazards. If the heater needs to be moved, always disconnect the cylinder first. Never move a lit heater.
If you're planning to use a patio heater this winter, keep these safety tips in mind. And remember that your patio heater's manual should always be your go-to source for information if you're ever unsure about your heater's specifications.
If you work in BC's restaurant or film industry, now is also a great time to remind your coworkers to follow these safety tips when using any propane-fueled heating device. Check to see if the heaters owned by your workplace are being stored, operated, and maintained safely.
Want to know more about CO? Check out Technical Safety BC's guide to CO safety in the home. You can also read more about patio heater safety with the Canadian Propane Association's tip sheet.