Summer is right around the corner and many British Columbians are gearing up for road trips in their recreational vehicles (RVs), including campers, vans, trailers and motor homes. Whether you're new to RV camping or a seasoned pro, Technical Safety BC would like to remind RV owners to have their propane equipment checked and maintained at least once every two years and every time an RV is transferred to a new owner.
Buying a used RV?
If you're buying a used RV from a dealer or from a private seller, be sure to always look for a Technical Safety BC (or BC Safety Authority) decal confirming that the vehicle's propane system has recently been safety checked. The decal is installed only after a comprehensive propane system safety inspection has been done and necessary repairs made by a certified Recreation Vehicle Installation and Service technician. A completed Technical Safety BC Propane System Re-Certification Checklist should always be available with the vehicle and include a record of the safety inspection.
Is it certified?
RVs in British Columbia must bear certification from a certification agency recognized by the Standards Council of Canada. RVs imported into BC may not bear a valid certification for Canada.
All RV dealers are required by the Motor Vehicle Sales Authority of British Columbia (VSA) to ensure that vehicles equipped with a propane system are safe before being sold.
When a certified recreational vehicle equipped with gas appliances is re-sold, it is recommended that the propane gas system and appliances be inspected for safe operation by a recreational vehicle service shop that holds a valid gas operating permit with Technical Safety BC. You'll know your RV has been certified when you see a decal affixed to the vehicle to indicate that it passed inspection. This applies to private sales and commercial sales regardless of the type of business making the sale.
Read our Information Bulletin for more information: Gas Safety Certification of Recreational Vehicles.
Planning an extended stay?
Are you planning to hook up your RV to a larger external propane tank for an extended stay? Be sure to follow these important instructions:
The work must be done under the appropriate installation permit by a qualified individual working for a licensed gas contractor.

The installation must comply with the B149.1 and B149.2 code requirements as applicable.

RV-mounted containers must be capped or plugged to prevent accidental release of propane, or entry of debris into container outlets.

If the external propane supply is removed, the system is to be reconfigured to the Z240 standard and tested for integrity by a qualified gasfitter.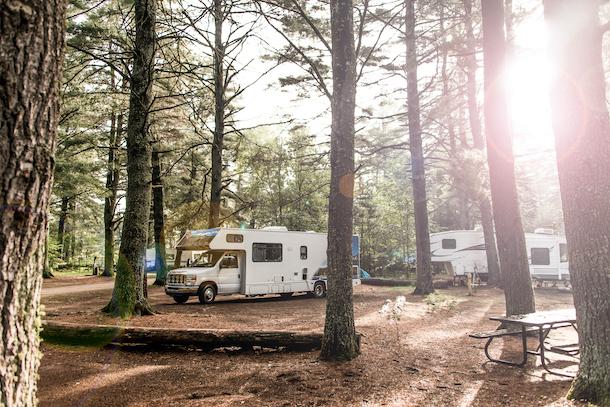 Ready to hit the road?
It's easier to relax when you get to the campground when you know you have a working CO and/or smoke alarm in your RV. Carbon monoxide (CO) is produced when gasoline, oil, kerosene, natural gas, wood or propane burn incompletely, and fires can happen while cooking, grilling or sitting around a campfire. If you don't have a built-in CO and/or smoke alarm, you can buy portable, battery-operated ones.
For more information on staying safe from fire, visit www.gov.bc.ca/FireSafety
For more information, see our Gas Directive D-GA 2012-02 Rev 02: Requirements for Connection of Fuel Supply to Mobile and Manufactured Housing and Recreational Vehicles.
If you have any questions, contact your local gas safety officer or call us at 1 866 566 7233 and we will have a gas safety officer get in touch with you.