There is nothing quite like a barbecue to make the most out of a warm summer day. Grilling can feel like an easy way to whip up a meal, but when it comes to BBQ safety, you'll want to be prepared
— and we don't just mean your famous marinade.
In 2021, there were 55 BBQ related fires in British Columbia amounting to over $23 million in property loss. Small patios or porches are especially susceptible, 11 of those fires took place in apartment buildings, condos, or townhomes. Keep yourself and your loved ones safe this barbecue season by following a few helpful grill safety tips for condo and apartment balconies:
6 BBQ safety tips for apartments and condos
1. Check your strata guidelines or bylaws
While the BC Gas Safety Regulation regulates the use of barbecues in apartments and condominiums, building owners and condo associations may still prohibit or restrict the use of barbecues for safety reasons. Prior to adding a grill to your home, ensure your building rules permit BBQ use on your balcony or patio space.
2. Clean your grill regularly
Barbecuing regularly causes grease and other food debris to collect inside the grill and grease tray. If not cleaned regularly, this build-up can lead to fuel for a fire. Clean your barbecue after each use and check your grill manual for any additional safety information.
3. Only use your BBQ outside
If you have limited outdoor space and your BBQ is unexpectedly rained out, it might be tempting to take it inside. But barbecues produce carbon monoxide (CO), a tasteless and odourless gas which can be deadly if inhaled. Never use your BBQ in an enclosed space and ensure it is in a well-ventilated area away from overhangs and entryways of your apartment where gas could enter your home.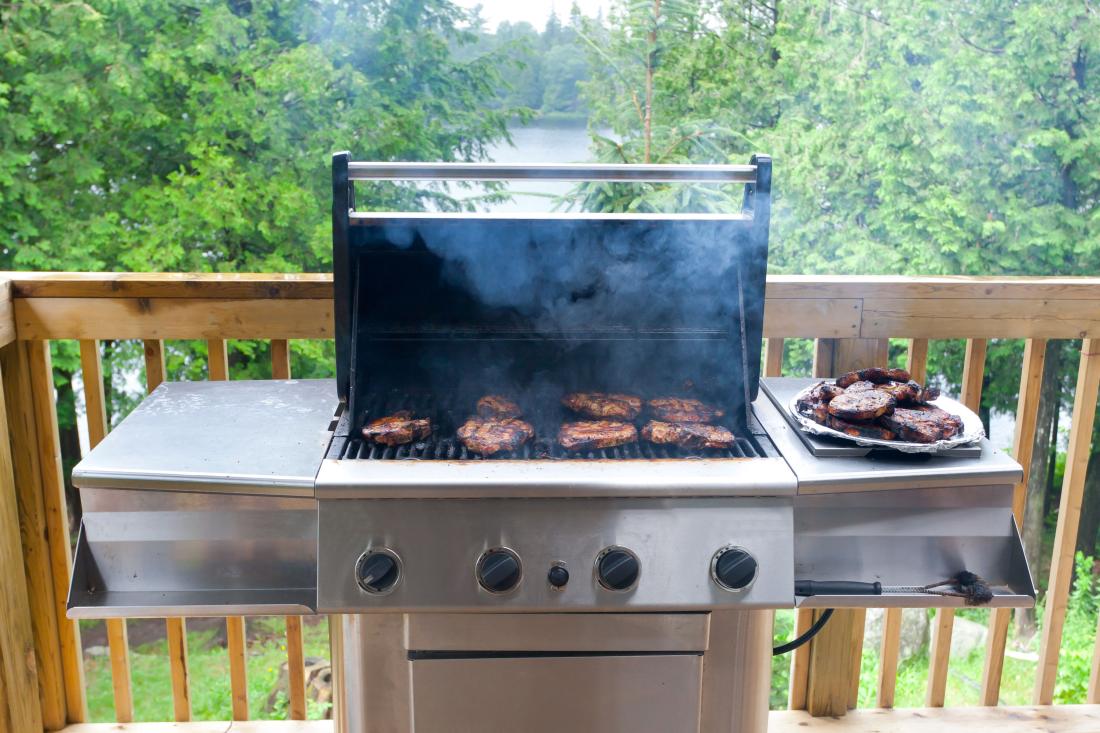 4. Check your grill for leaks
With limited space in a condo or apartment, many opt to put their summer furniture into storage during the cold weather months. If your BBQ has been packed away during the winter or you have not used it in a while, make sure to check for leaks. A leak in the gas line can cause propane or natural gas to build up inside the BBQ when the lid is closed. To check for leaks, apply a soapy water solution to the propane cylinder connections and hoses. If you see bubbles appear, have the BBQ serviced by an authorized professional and then re-check for leaks. It is also important to check for leaks every time a propane cylinder is refilled or replaced.
5. Keep a fire extinguisher within reach
If a fire does break out, be prepared ahead of time. Keep a fire extinguisher nearby and know how to use it. Even a small grill fire can turn into a dangerous situation, especially for smaller spaces like balconies where the fire can easily enter the home. Make sure to have a plan to get yourself and others to safety in case of a fire.
6. Don't leave the grill unattended
Prepare everything you need ahead of time so you will not have to leave the grill, or ensure someone else can monitor the grill and take safety measures in your absence. This is especially important for smaller spaces like apartment balconies and patios where grill fires can quickly spread and cause damage to your home.
Taking out the grill for the summer should mean fun, family, and delicious food. Take the right preventative measures and you can enjoy a safe grilling season in your apartment or condo all summer long.