Railways are responsible to ensure that all hazards, including those caused by inclement weather, are properly managed for safe railway operations.
Check out these tips to get you prepared for winter.
1. Have a plan
Winter comes quickly, plan for snow before it's falling. Focus on important issues like preparing equipment and keeping the track and walking areas free of debris or tripping hazards.
2. Book a snow remover in advance
Snow removal companies can book up well before the season starts. Be sure you've reached out to your snow removal provider. If doing it yourself, prepare your snow removal equipment, sand, and de-icers.
3. Keep it clear
A minimum of 1.5" clearance is required under flangeways. Ensure all flangeways, including tracks running through private and public crossings, are clear of snow, ice, and debris at all times. Chip away any ice and debris often. Also, remember that cars and trucks coming and going can compact and harden snow in the flangeways. As rail equipment enters the crossing, derailments can result from rail wheels riding up on compacted snow.
4. Keep switches clean
Switches and their components should be free of snow and ice build-up. When operating the switch, ensure the switch points are free of snow and ice when closed. The switch points must touch the rail with zero gap in between.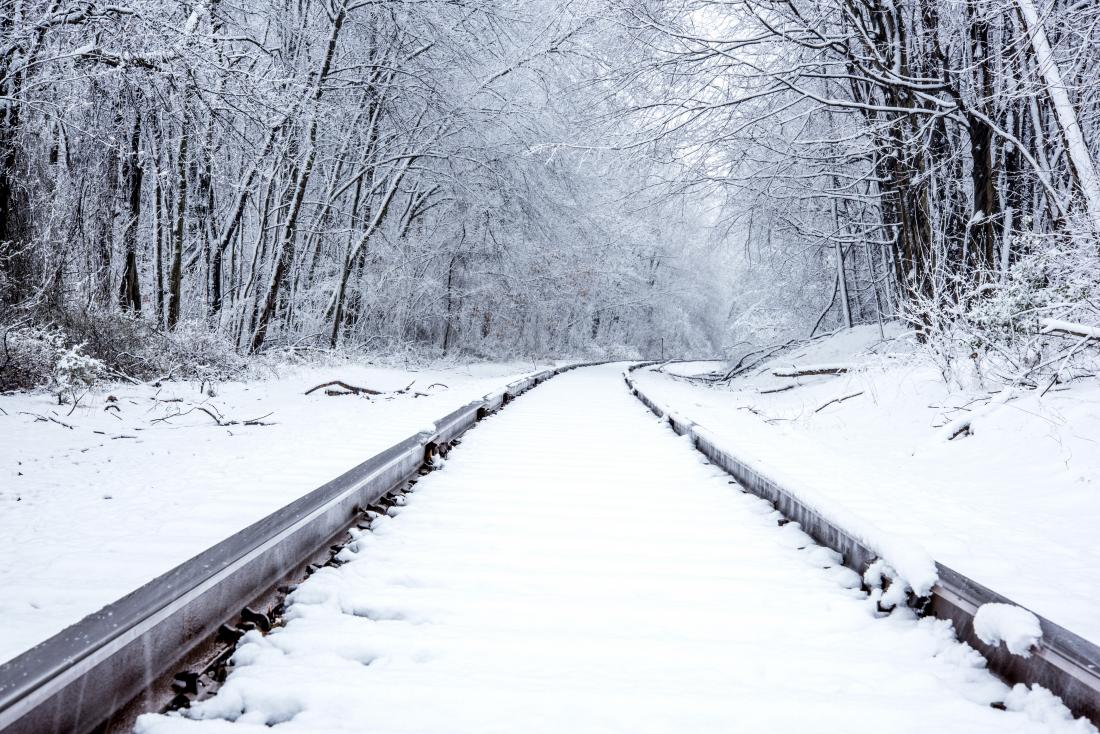 5. Pay attention to semi-automatic and spring switches
Snow or ice may affect the ability of the switch points on a semi-automatic switch to close properly. A crew member must manually line the switch and ensure the points are properly lined before a trailing move happens over the switch. Movements operating in a facing point direction must observe the position of the points, before proceeding over a semi-automatic switch. All movements must stop before trailing through a spring switch where there is too much snow and ice. Switch points should be examined and cleaned if necessary.
6. Update crews on weather conditions
Crews should be aware of the daily weather along with hazards associated with any changing weather or track conditions.
7. Clear debris from the right of way
Pick up debris before snowfall. This ensures employee safety when detraining a movement, and helps avoid any buried tripping hazards.
8. Clear snow from the right of way
Immediately clear any snow that has fallen from adjacent rooftops onto the right of way.
9. Keep signs and switch targets visible
If heavy equipment is used for snow removal, be sure restricted clearance and derailment signs have not been buried or run over.
10. Anticipate the snow melting
Pool water can create tripping hazards or dangerous ice conditions if it freezes.
11. Keep wide clearances
Avoid creating close clearances when removing snow. Make sure right of way is wide enough to allow crew members to move about easily. Serious injuries can occur due to restricted clearances.
12. Allow more time for switching
Not only are your crews going to require more time to do their job safely, but your service provider will also be faced with the same issues.
For more railway information, contact the Technical Safety rail team.